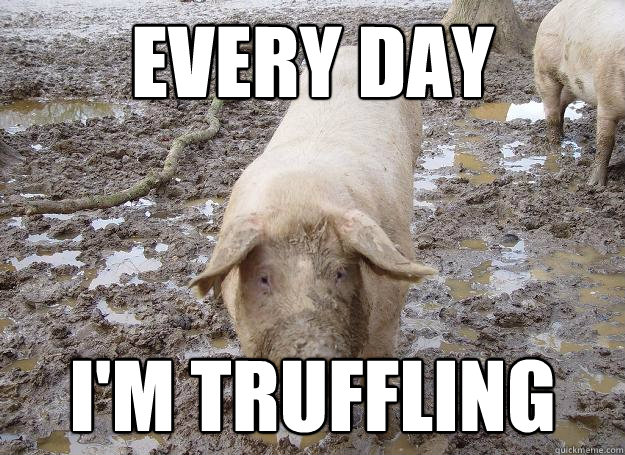 I just learned something about truffle pigs. You know those pigs that people use to sniff out truffles in the ground? I read the following in this article:
For the purpose of sniffing them out, female pigs are sometimes used because the smell of truffles underground resembles the smell excreted by male swine.
So basically they're leading horny female pigs on a wild goose chase for a nonexistant partner? Really? What a horrible, sick joke.
The funny part is that while the female waits by the recently discovered truffle for her mate she might eat the truffle. Take that, truffle pig human companion!
Truffles and saffron are two ingredients I know are used in the finest of cuisines and cost a lot of money for a little bit of it. I also don't know what they taste like. I hope one day I get to eat them because truffle fries sounds delicious.
I've been sick this week and also terribly busy working on decorations for a baby shower happening this weekend. I don't know why, but whenever there's an opportunity to celebrate someone special in my life I have a tendency to go all out. Part of it is that I get a kick out of organizing a party so my attention to detail is impeccable and my Type A personality is unstoppable. The other part is I like parties! Food and friends are two of my most beloved things in life.
I want to show you what i've done so far but I don't want to ruin the surprise! Let's just say I'm taking a lot of tips and tricks from Pinterest…
So while I finish the last few details and pull out the last strands of hair on my head please have a good weekend. High five someone you love. Happy Fall!
Our most recent family portrait, courtesy of Photo Booth. I love us!!!!!
Bloggers love to inspire and wish you well on fridays. Here's some friday posts from my daily reads:
+ Cupcakes and Cashmere's "Five Things"
+ Design Crush "Happy Weekend"
+ Oh Happy Day! "Inspiration Edition No. 17″
+ Making it Lovely's "Honor Roll"
+ A Beautiful Mess makes whole wheat pretzel bites